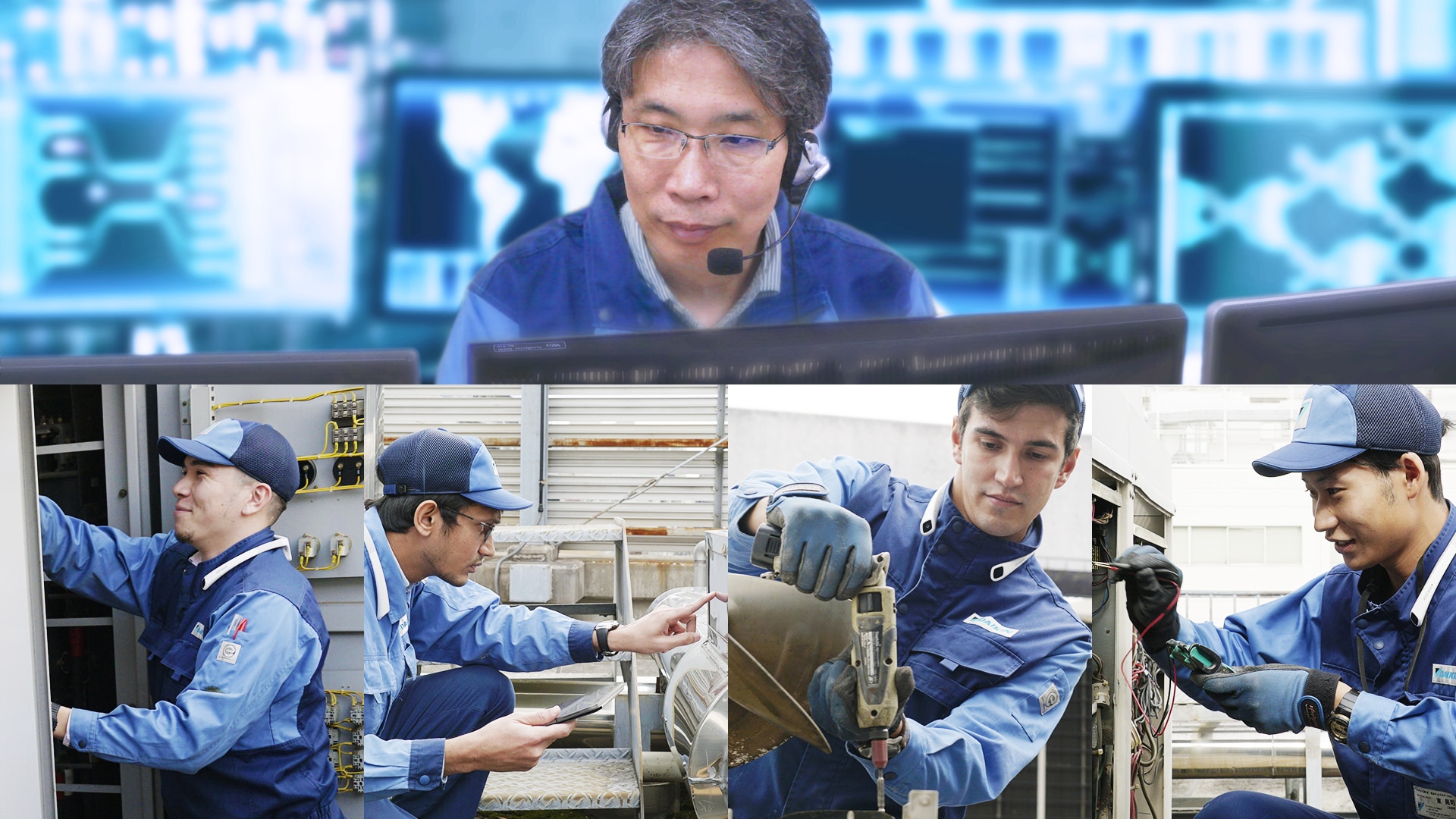 THINKLET®️ ; connected worker solution as a bridge between humans, AI & machines
■What is "Connected Worker"?
Recent complication of facilities in factories, plants and maintenance scenes has been requiring field workers to be knowledgeable and capable on advanced judgement than ever, although the total number of workers is inclined to decrease. Moreover, the successive retirement of a large chunk of the skilled labor, starting form 2020s, will affect several manufacturing and infrastructure-related industries for their continuous operation.
Herein, a vicious cycle of "more sophisticated skills needed and more pressure to workers" and "continuous labor shortage" is happening especially in the manufacturing factories and infrastructure-related industries. However, the deployments of robotic systems in the industries are not proceeding as expected.
Robotic systems are not as flexible as humans nevertheless of being good at structured works. They do not even achieve the entry-level works such as block stacking in most of the manufacturing scenes.
Furthermore, robotic systems stay costly investment and still have a high hurdle to be deployed for most of the industries except for large scale ones such as automotive factories. Given the reality, a new digital technology that reduces the burden of field workers and creates much higher values than the conventional workforce is invented. Field workers empowered with this new digital technology are called "Connected Worker" (or "Connected Industrial Workforce" / "Digital Workforce".)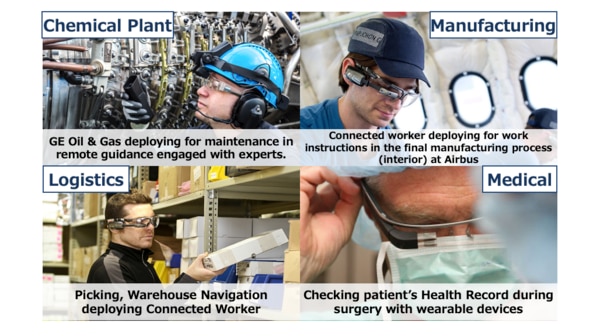 We see more and more "Connected Worker"s are being deployed, aiming at "improving productivity", "managing employee's health and safety" and "preventing mistakes and fraud at fieldwork" in mission-critical environments such as maintenance of high-tech facilities, chemical plants, petroleum refining plants and electric facilities where every mistake is highly crucial.
■WHAT IS THINKLET®️?
Fairy Devices has noticed and has been working on to develop solution of this critical issues of field operation since 2015, inspired by one of our customer's request on sound recognition for its factories.

"THINKLET®️" is consequently a neck hanging style not like the conventional glass type connected worker devices (i.e. head mount displays). This aims to digitize operations without increasing a physical burden and the cost of changing existing workflows of field workers.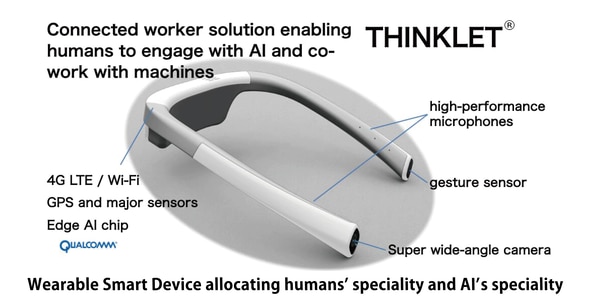 ■Features of "THINKLET®️" to accelerate Digital Transformation ("DX") by connected worker
"THINKLET®️" has four features as follows.
①Neck hanging smart device without a display unit
The structure of "THINKLET®️" is designed as an original Android-based wearable smart device and it does not have a display. By eliminating display, THINKLET®️ achieves very low power consumption and light weight. Moreover, neck-hanging style does not impose physical burdens to field workers, which is one of the largest problems of existing head-mounted or glass style devices. The reason of eliminating display is in the next paragraph.
②High-performance microphones to enable clear sound recognition, AI deployment and automatic work records in noizy environment on-site
Factory workers have used walkie talkie or pager although the sound quality wasn't good enough. Multiple high-performance microphones in THINKELT™️enabled to collect clear sounds at on-site, and to recognize sound under noisy circumstances which has been huge technical hurdles for long time. Eventually, you can use AIs and voice commands at factories.
Work records and handover notes used to be written after coming back to offices, are automatically completed at work sites with THINKLET®️.
③Super wide-angle camera enables experts to support field workers remotely, just like staying beside them at fields​​​​​​​
Workers used to communicate via walkie talkie when in trouble or inquiring to experts. However, "one of green lights is flashing" does not tell which one of them is actually flashing, there are often multiple flashable green lights around.
THINKLET®️ has a super wide-angle camera in the tip of its arm, capable of sharing views of worker's eyesight and its manual labor. Video images from this wide-angle camera allow experts to understand the situation and provide accurate instructions to field workers as if experts are beside them.
Fairy SLAM technology is capable of generating a 3D map with images taken by this wide-angle camera and even captures the location data of complicated place where GPS cannot provide accurate geolocation.
④Sound recognition and gesture sensor enable user's hands free operation of facilities and systems​​​​​​​
Field workers often wear groves, holding tools with hands, not like the office workers, that made it difficult to handle keyboards or touch panels. And, this is one of the biggest reasons disturbing the deployment of digital devices at work sites.
"THINKLET®️" is designed to be operable for field workers while both-handed on their work by equipping gesture sensors in addition to sound recognition functions. With these key functions on THINKLET®️, even field workers using drilling tools can enjoy supports by AI such as manual read out, snapping photos, double-check of their on-site works.
■"Second Brain" to accelerate Digital Transformation ("DX") of on-site works​​​​​​​
The conventional Digital Transformation ("DX") in engineering scenes has been based on the data of equipped machines. However, not only machines but humans are part of factory operation. Thus, "atypical data generated by humans" has been the missing peace to achieve genuine DX.
"THINKLET®️", a neck hanging wearable AI snuggling up to humans will shape the world of "generating big data from humans" by collecting precise sound data with "XFE", our sound edge AI, and collecting first-person-view image data with a super wide-angle camera, whereas conventional microphones and cameras could not manage.
"THINKLET®️", also equipped with LTE and is going to embrace "on-site work assist solution based on analyzed data" and "knowledge transmission from expert-assisting-AI", in addition to remote support via video call.

DX level 1: Digitization of Business Operation (collect data)​​​​​​​
"THINKLET®️" is designed to reduces both physical and operational burden on workers.
Do we need to change the conventional operational process such as form entry with keyboards when we deploy the digital devices? The answer is No. "THINKLET®️" won't require to change your conventional operation style.
It collects "atypical data generated by humans" which naturally occurs in your normal daily operation.
Unlike a conventional expensive way of data collection, THINKLET®️ can automatically collect data at the same time as optimizing the operation. Because it collects data of sound, image, and video etc.. while provides operational assist functions such as remote video assist and automatic form entry.
DX level 2: Digital Support for Business (utilize data)
"THINKLET®️" empowers users to visualize a tacit knowledge and create detailed evidence notes with information of on-site conditions and decision process.
Utilizing these collected "atypical data generated by humans", enable skill transmission, improving the quality of training, evidence based judgement, knowledge management, etc.
For example, it is possible when pump pressure is low and alerting, to (a)suggest the possible candidates causing the troubles based on past data, and (b)compare the solution of experts and average-workers so that the system to generalize the knacks from experts' unconscious behavior and reflects them into operation manuals.
DX level 3: Transform Business Process (utilize AI)
We can develop operation-assisting AI which has machine learned experts' judgment processes by utilizing and analyzing data collected through "THINKLET®️".
It is essential for building superior AI to provide instructive data at the appropriate level in terms of Volume, Velocity, Variety and Veracity. This is commonly described as "4V" necessary for machine learning of AI.
"THINKLET®️" enables to collect operational data which has not been obtained in the conventional daily operation, such as a surrounding situations, operation contexts or experts' judgment processes.
This enables AI to confirme operation sequences, automate and optimize non-core works, and automatically suggest work procedure, which allows on-site workers to concentrate onto speciality operations that only humans can do.
DX level 4: Digital Native Operation (co-work with AI machines)​​​​​​​
"THINKLET®" to become an interface between humans and AI-assisted operation, not only the one between experts and the unskilled workers. It bridges all parties smoothly, and accelerate their seamless collaboration.
Achieving DX level 4 means a world with AI like Tinkerbell from Peter Pan or Viviane from King Arthur which always beside with humans and proactively assist us through digital devices such as "THINKLET®️".
AI in the this DX level exists and works together with humans, this often is represented by Doraemon (Japanese Cartoons), Commander Data of Star Trek, or Cortana of HALO, not like cost reduction system nor dominating AIs typically seen in Matrix nor Skynet in Terminator.
Fairy Devices envision this philosophy, to provide "heartwarming technology" and "connect humans and machines" in order to taking human to a next stage.
■Install your field knowledge and operational technology ("OT") into "THINKLET®" and solve labor shortage
It's always humans who judge and proceed on-site works even how advanced the technology will be.
To build the operation-assisting AI requires field knowledge and operational technology("OT".) And field knowledge always belongs to field workers.
Fairy Devices is striving to develop operation-assisting AIs which assist field workers. Our goal, to build AI of experts' knowledge won't be attainable without reciprocal corporations on DX with companies with field operations.
Expert AI, based on your field knowledge, to enhances corporate value via "launch of overseas factories" and "acquisition of foreign currency by exporting solutions based on your maintenance technologies."
Fairy Devices envisions to become a catalyst to connect humans and machines with heart-warming technologies.
In other words, we translate what humans "see", "hear", "speak" and "behave" into "the format that machines can understand, learn and analyze." We redesign new boundaries between humans and machines so that technology to help humans naturally and tenderly.
Fairy Devices looks for partners to build an operation-assisting AI together and create the world of humans and machines live together.